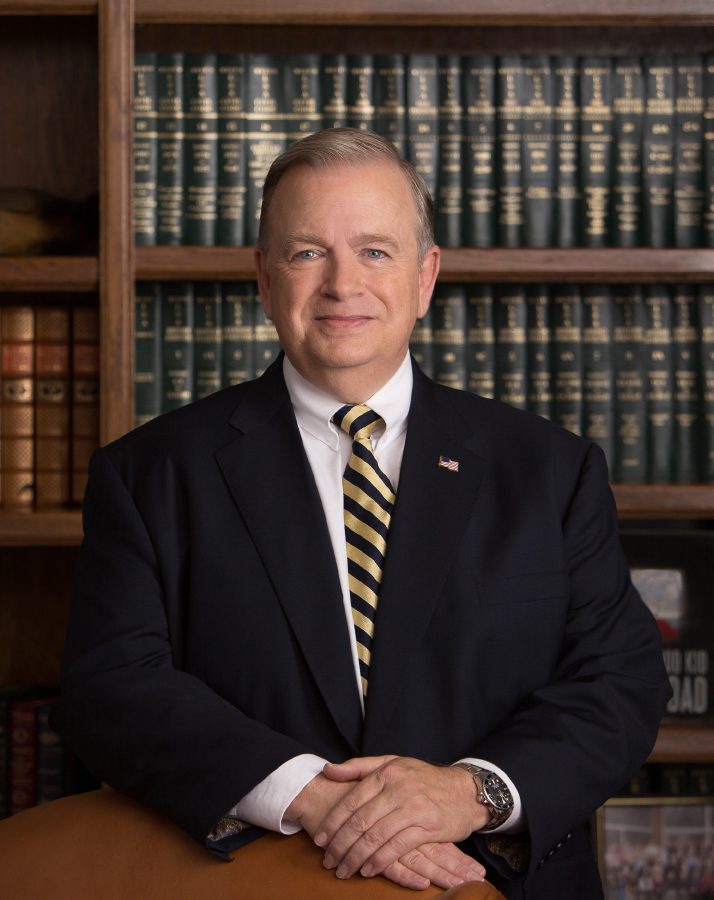 By all standards, Public Service Commissioner Eric Skrmetta's work to protect ratepayers and improve utility services has been exemplary.
Commissioner Skrmetta has saved ratepayers over $8 billion since taking office, reducing residential utility rates to the lowest in the nation. He has ushered in new power plants to build Louisiana's energy efficiency and independence. He improved water systems, demanded transparency on consumer billing, protected our community by ensuring prison telephone calls remain monitored, reduced storm recovery costs, and returned over a half billion dollars in rate credits to consumers.
Here are a few of Commissioner Eric Skrmetta's achievements:
Led the charge to reduce utility rates from 9.44 cents per kilowatt hour when he took office to 7.79 cents per kilowatt hour today making Louisiana's utility rates 35% lower than the national average
Reduced Louisiana's residential utility rates to the lowest in the nation
Led Louisiana to the lowest industrial electricity rates in the nation
Negotiated a one-time $471 credit to every Cleco customer in 2016 as a part of the company's acquisition
Negotiated $136 million in rate credits to Cleco retail consumers
Negotiated a four-year freeze in rate hikes for Cleco customers
Ordered utility companies to refund customers the corporations' savings from the 2018 Tax Cuts and Job Benefits Act
Investigated and recovered $58 million in energy usage overcharges and converted the funds to consumer refunds
Saved ratepayers nearly $200 million in storm recovery charges
Encouraged and approved the merger of Entergy Louisiana and Entergy Gulf States Louisiana into one company, Entergy Louisiana LLC. saving ratepayers $107 million
Saved ratepayers over $90 million through low interest rate financing of a scrapped power plant conversion project in St. Charles
Improved transparency in transmission planning saving ratepayers over $105 million annually
Shifted $58 million in construction costs of a cross-state new high-voltage transmission line and substation from Louisiana to Texas
Authorized a 36-mile, storm-hardened transmission line to improve service reliability for utility customers
Secured staging zones for utility workers to speed recovery following storms and hurricanes
Communicates regularly with Parish Presidents, Mayors and Sheriffs in preparation for every storm and works with them throughout the storm and in its aftermath to speed utility reconnects and restore power quickly
Strongly advocated for the expansion of broadband especially in underserved rural areas
First and foremost, Eric is a husband, married to the former Debbie Gibson since 1998, and father to their two children, Elizabeth and Race. Family is very important to him, and he models for his children the importance of community involvement and commitment. Eric has always been actively involved in his businesses, while practicing his profession as an attorney and mediator. Eric is a lifelong resident of the New Orleans area and a proud Republican for over 40 years. The family worships at the Immaculate Conception Jesuit Church in New Orleans.
Eric was elected to the Louisiana Public Service Commission in 2008, and was reelected in 2014. He has been aggressive in fighting for the needs of the consumer during his tenure, including leading Louisiana utilities to now providing the lowest electrical rate in the country. Eric also recognizes that all companies need to make a profit to continue providing service, and is aware of this balance in his decision-making.
Eric has brought forth innovative changes to the Commission, including new taxi regulations and the use of mediation in legal disputes, reducing legal fees and expenses to the consumer. He was instrumental in bringing Uber to the state of Louisiana. He also played a large role in the planning that led to the Washington Parish Energy Center, which broke ground in 2018.
Under Eric's leadership in 2016, the Commission approved the acquisition of Cleco Power by a private entity. That acquisition resulted in Cleco providing rate credits to its retail customers of $136 million. Rates were lowered by $1.211 million per year for at least 4 years. Each Cleco customer received a $471 bill credit beginning in July 2016. Cleco agreed not to implement any required increase in rates until June of 2020.
Eric worked to successfully develop a new financing method for lower hurricane recovery costs. That effort alone saved ratepayers more than $200 million in the long term.
Eric works hard every day to listen to the concerns of his constituents and keep citizens informed about the LPSC's actions and obligations. He also has regular meetings with local elected officials to keep the lines of communication open.
Eric's bachelor's degree in industrial technology and his life experiences in manufacturing, have uniquely positioned him to clearly understand the technical nature of issues that are brought before the Commission. His legal education provides unique insight to the Commission, which regulates transportation. Finally, his experience as a mediator has helped to achieve rapid resolution to problems that come before the Commission. Eric is a fiscal conservative who works to ensure a regulatory balance that enables consumers to pay the lowest rates for utilities while allowing the utility companies to earn a fair profit on their investment.
Eric is a graduate of Brother Martin High School, LSU, Southern University Law School, and Tulane University Law School. Eric holds a Masters in Maritime Law and is a Fellow from the Harvard University Kennedy School of Government. He became a Certified Mediator in 1989.
Eric sits on the Electricity and gas committees for the National Association of Regulatory Utility Commissioners. He also represents Louisiana on the Board of the Organization of MISO States.
Eric has served as ad hoc Judge for First Parish Court for the Parish of Jefferson. He was honored to serve as a Commissioner for the Greater New Orleans Expressway Commission and worked on the staff of former Governor Dave Treen. He is a publicly elected member of the Republican State Central Committee.
Volunteerism and community service are an important part of Eric's life. He is active in our community and serves numerous community organizations.
Eric represents LPSC's District 1, which includes all or a portion of Ascension, Jefferson, Livingston, Orleans, Plaquemines, St. Bernard, St. Charles, St. Helena, St. Tammany, Tangipahoa, and Washington Parishes.
Eric has been elected twice to serve as the Chairman of the Louisiana Public Service Commission, most recently in 2018. Each time he was elected to serve two consecutive terms. He has also served as a two-term president of the Entergy Regional States Committee (ERSC). In late 2019 Eric was appointed White House Liaison for The National Association of Regulatory Utility Commissioners.